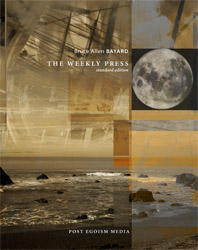 The Weekly Press is now a book with four versions to choose from.
Select your book version below to include shipping if needed. Please supply your address in PayPal session. If you are in the southern Oregon area, I can deliver at no charge. For Premium and Deluxe versions, please be sure to note which print(s) you would like included in your book, or wait until you've looked through the book to choose prints.
To see a flip book of the Standard Edition click here.
Deluxe Edition: $550.
8" x 10" hard cover with dust jacket
430 full color pages with all 1000 images
5 archival prints of choice from the 1000-image series
Deluxe Edition Book Only: $250.
8" x 10" hard cover with dust jacket
430 full color pages with all 1000 images
Premium Edition: $175.
8" x 10" hard cover with image wrap
208 full color pages with over 450 images
1 archival print of choice from the 1000-image series
Standard Edition: $60.
8″ x 10″ soft cover
208 full color pages with over 450 images